HN6 Navigator - Connecting to a PC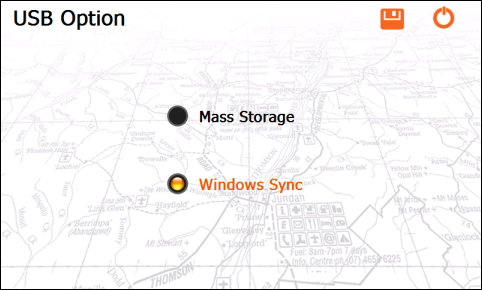 The HN6 Navigator can be in either Mass Storage or Windows Sync mode.
Mass Storage mode is used for updating iGO street maps and access the date save in the HN-6's internal storage.
Windows Sync mode is the default setting, and is used for connecting to your PC when transferring data using the Hema Explorer PC application.
To use Windows Sync mode, you need to also have installed either
Windows Mobile Device Center (WMDC) - for Windows Vista, 7, 8 and 10
ActiveSync - for Windows XP
NOTE!
After making adjustments to either Mass Storage Mode or Windows Sync, please be sure to tap the orange square icon on top right of screen which is the SAVE function. This will then restart / reboot the HN6 to the Main page (Street / 4WD).
Windows Mobile Device centre and ActiveSync are no longer avaliable for download from the Microsoft website
Please refer to this link to switch between modes.