OziExplorer [4WD mode] - I see extra digits at top-right of the map panel. What are they?
The Hema Navigator HN5i, HN6 and HN7 models each come with TWO layouts for OziExplorer pre-installed.
There is a standard layout (which is the default layout active when the unit comes out of the box), and a layout which includes the UTM Grid Reference as an additional display parameter.
Fire fighting agencies who use the Navigator often use the UTM Grid Reference as an aid during the course of their work.
If you have loaded the UTM layout by mistake, it is easy to change it back to the standard layout. (or if you have the standard layout, and want to load the UTM layout, the process is the same).
Note!
The screens shown here are from an HN7 Navigator, but the process is the same for the other models.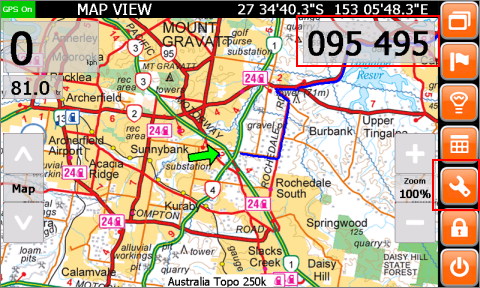 Tap the Settings button on the right hand toolbar.
---
Tap the Load Layout button on the Settings screen.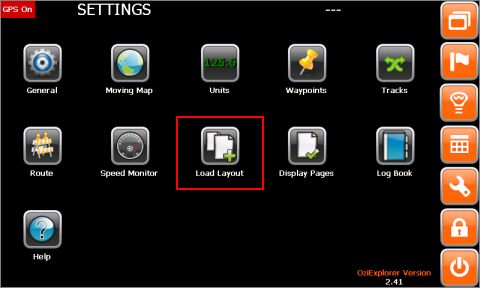 ---
Double-tap the layout file you wish to load (either the standard or the UTM version)
Wait for a short period (5-10 seconds) for the layout to load.
After loading the standard layout file, OziExplorer will not display the UTM grid reference in the top-right corner of the map panel.