You may find that there are many POI icons (called Place Markers in iGO) which can make the screen somewhat cluttered.
There are multiple categories of Place Markers, and you can turn some of the categories off in an effort to reduce screen clutter.
First, go to the Settings page in iGO

On the Settings page, tap Map Settings

Scroll all the way down until you see the Place Markers button

Tap the Place Markers button to enter the Place Markers on Map screen, shown below.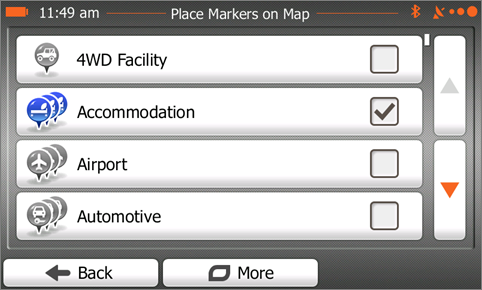 Here you can tick / untick any of the categories to enable and disable the display of that category on the map.
NOTE
Unticked items are shown in grey, and will NOT be shown on the map screen.
Other icons you may see displayed are considered safety symbols (railway crossings, school zones, etc.) and may not be able to be switched off. These are accessed from the
You can also select all the Place Marker categories you wish, then save these as a set.
For example, you may have a set of markers that you want switched on for highway travel, and another set for "around town".
Once you have selected your desired list, tap the More menu at the bottom of the screen, and then tap the Save button.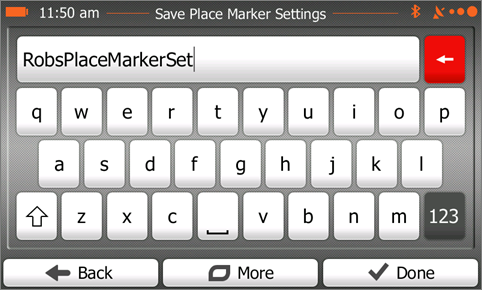 Give your set a name, and tap the Done button. You can save as many sets as you want.
Once you have saved one or more sets, you can use the Load button on the More menu to load previously saved sets.