This article applies to the following Navigator model(s):
This article shows the process of performing a backup using Naviextras Toolbox of the current state of your Navigator to your PC.
It is a good idea to periodically perform a backup of your device's iGO content as a safety measure. Typically, this is done prior to doing updates of content on your Navigator using Naviextras.
Doing a backup only takes a short while (usually around 5-8 minutes), and Naviextras Toolbox will automatically prompt you to do a backup immediately prior to doing any updates to your Navigator.
---
Once you have Naviextras Toolbox running on your PC, and it shows the connected Navigator, login to your Naviextras account.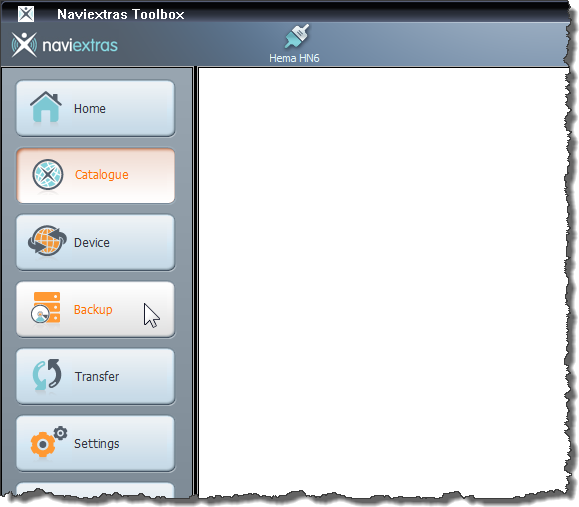 ---
Click the Backup button to view the Backup panel in Naviextras Toolbox

---
The backup panel has a number of features to enable you to manage your device backups on your PC.
If you have previously done one or more backups, these will be listed here. Each backup is stored in the iGO data folder on your PC.
The default name for any backup will always be the date and time that the backup was performed, as you can see in the example below.
Next to each existing backup will also be buttons which allow management of the backup.
The Delete button removes the particular backup from your PC

The Restore button will perform a restore of that backup to your device

On the backup panel you can also create a new backup by clicking the Create Backup button.

---
Click the Create Backup button to initiate a new backup of your device.

---
The Creating Backup window will open. The software will have chosen a default name for the backup. You CAN name the backup anything you want, but it is best to leave it at the default value.
Note the following message on this window
"Please note, that the backup process may take up to several hours"
Obviously, if you have a lot of additional content (such as extra maps etc.) installed in your iGO street software, the backup WILL take longer, but have NEVER seen a backup of a typical Navigator take longer than 5-10 minutes, so do pay too much heed to the warning message.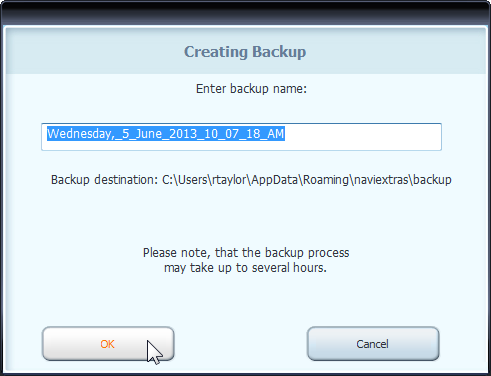 Click the OK button to continue with the creation of the backup

Click the Cancel button if you change your mind and do not want to continue creating the backup

---
Once the backup has started, you will be able to see its progress in the backup panel of naviextras Toolbox, as shown below.
You can cancel the backup while it is in progress by clicking the Cancel button at any point while the backup is under way. Please be aware that an incomplete backup is not much use.

---
Once the backup has finished, the status panel will indicate the successful completion of the backup as shown below.