How to update your HN-7 to the latest version of Ozi Explorer 2.51c
Warning!
This download is specifically for the HN7 Navigator. Do not install this on HN5i or HN6 Navigators!
Latest version: 2.51c
You will find the latest version of the OziExplorer program as an attachment at the bottom of this article.
You can find the current version of OziExplorer on your Navigator by checking in the bottom-right corner of the Settings page: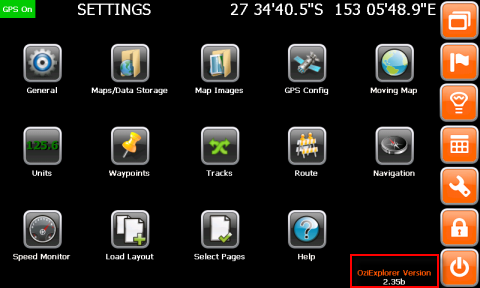 To install this version, please do the following:
Ensure your Navigator is switched on and sitting at the Main Menu as shown below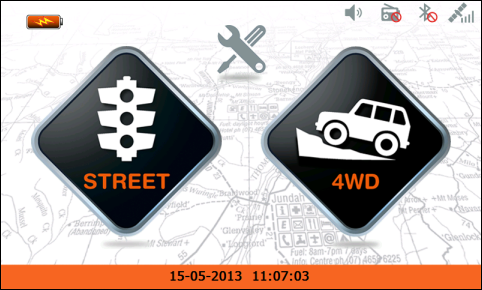 Tap the Spanner icon, and enter the USB Option screen by tapping the USB icon.
On the USB Option screen, make sure that the Windows Sync option is selected. Detailed information on this is available in the User Guide which came with your Navigator. (see page 29 & 30)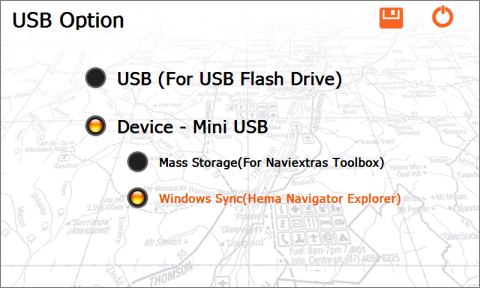 Download the new OziExplorerCE program to your PC by clicking the button below.
Connect your Navigator to the PC in Sync Mode (see Related articles below)
Run the downloaded installer. The installer will copy the latest OziExplorer program to your HN7 Navigator, overwriting the existing file.
Disconnect your Navigator.
Start the OziExplorer (4WD) program on your Navigator, and check the version on the Settings page as before to be sure it matches the version number shown at the top of this article.