HN7 Navigator - Connecting to a PC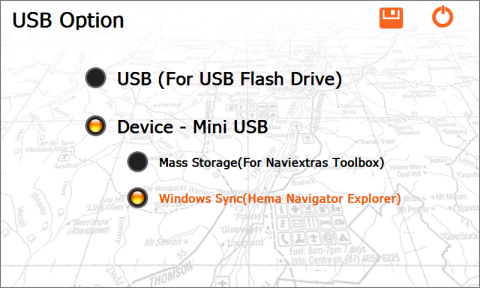 The HN7 Navigator can be in either Mass Storage or Windows Sync mode for PC connection. The USB Flash Drive option is NOT used for connecting your HN7 Navigator to a PC!
Mass Storage mode is the default setting, and is used for updating iGO street maps
Windows Sync mode, and is used for connecting to your PC when transferring data using the Hema Explorer PC application.


Remember!

Once you have made any changes to settings, to make these changes permanent, you need to save them by tapping the Save Settings button.
To use Windows Sync mode, you need to also have installed either
Windows Mobile Device Center (WMDC) - for Windows Vista, 7 or 8
ActiveSync - for Windows XP
You can download these programs from the Hema Navigator website here:
Please see pages 17, 26-27 in the User Manual for more information.